Risky Photoshoots, Sneaky Thieves, & Unexpected Discoveries
After the surprising support I received for my album, Echoes & Light, I was feeling pretty good about releasing more music. I wanted to write something that was less smooth jazz and closer to the electronic chill/lounge vibe I loved listening to. I got to work right away, recording new music. I called the album Discoveries and announced a release date: January 1, 2012.
I set out to make a great-sounding and great-looking record. I wanted cover art that looked larger than life. I began reaching out to photographers and reviewing portfolios. What Matthew Hogan did to achieve the album cover was, though brilliant, a bit risky. You're not going to believe what we did to achieve this photo!
Finding the Photographer
First, here's how I met Matthew Hogan. In 2010, almost 2 years before the album was complete, I met a drummer named Luis on the set of the Univision show, Despierta América. We provided accompaniment for David Bisbal who performed on the morning show. (David Bisbal is a multiplatinum Spanish recording artist who has since sold more than six million records in Spain and America, getting 69 platinum albums, 20 gold, and two diamond.) When we talked, he mentioned an endorsement deal he had obtained and a series of portraits he had just commissioned. When I saw the photos, I was in shock. These photos were epic, masterfully composed, and larger-than-life. Luis told me that Matthew Hogan was a young photographer based out of Tyler, Texas doing some amazing work. I reached out to Matthew right away.
The Photoshoot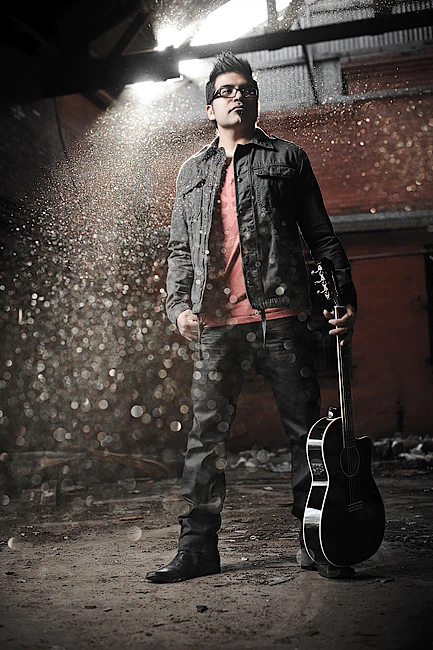 When I met Matthew in Tyler, I found him to be affable, open to ideas, and risk-taking. He had long, blondish hair, a rock band t-shirt (I think), ripped jeans, and an approachable demeanor. He looked and carried himself like a master of his craft. He was interested in discovering whether I was open to his ideas, and I got the sense that I should defer to his creative spark. Matthew may have lived in a small town, but his creativity transcended those borders.
Matthew drove me to an abandoned building to take our portraits. We crawled past an opening in the fence and entered a building that had been in a state of apparent disrepair for quite some time. Most of the windows were broken. The second floor had collapsed into several rooms, giving the sun access to the first floor. One room contained a grand piano that had fallen from the second floor, exposing each and every aspect of its internals. I found it all to be very photogenic and perfect for our purposes.
With the assistance of his friend, Daniel Poe, we used old fiberglass insulation found laying around to get the sparkle effect you see on the Discoveries cover photo. Daniel picked up sheets of insulation and slammed them into the ground, causing thousands of tiny shards of glass to disperse into the air. These fibers caught the rays of the sun and produced an otherworldly sparkle above and around me. These were not produced in post-production! That's fiberglass sparkling in the rays of the sun.
Sure, this was extremely dangerous, but I mean, cool photo, right? The sun is lighting up the glass around me!
That was the last time I saw that guitar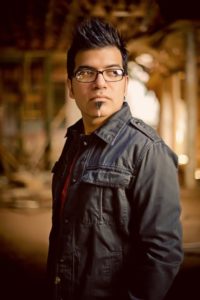 No more than a month after that photo shoot, someone stole the guitar from my car between load-ins at a gig. They busted the window and took my guitar, Lumix camera, and iPod. The thieves, a father and son team, were apprehended 2 years later as a result of a sting operation. Turns out this venue was their favorite spot for breaking into cars. The sting operation ended in a high-speed chase across several counties, and I was at least a little relieved that they were not going to target my vehicle in the future.
Luckily, I brought two guitars with me that day. I had just started bringing a backup guitar just in case I broke a string. At the conclusion of the performance, I mentioned to a hostess what had happened. Her response? "Wow, it's like you're performing for free tonight!"
I'm so grateful she put that into perspective for me.
Unexpected Discovery
None of the items were recovered. However, the loss of the guitar created an unexpected outcome. Since I was shopping for a replacement, I was open to trying other guitars, especially ones I hadn't considered before. That's when I took a leap of faith and ordered the Godin Multiac guitar.
As it turns out, it became my favorite guitar for over 10 years. I enjoyed the richness of its sound, its sustain, midi capability, and rosewood neck. It's extremely playable and takes pedals with no problem.
After playing the guitar for a couple of years, Godin Guitars asked me to be one of their endorsees. Over time, I acquired several more of their instruments, and they are all amazing. They often retweeted or reposted when I had music news to share, and at that time it provided a much-needed boost to my promotion efforts. Question is, would I have made that connection if the thieves hadn't taken my guitar? Hmm.
Things were going well in 2011 from a gigging standpoint. I had three residencies going at once, and a slew of corporate event performances on the calendar. With this much money coming in, I decided to make the best-looking CD package money could buy. All things considered, mission accomplished. However …
Discoveries: An Album Unfinished — Until Now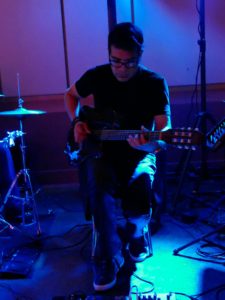 At the end of 2011, I rushed this album to print. However, I always felt I could have done a better job. I wanted a January 2012 release, and I made it happen. Sure, the artwork, photography, and packaging were top-notch, and I sold more physical copies of Discoveries than my other albums. To me, however, it felt like a demo of unfinished ideas. At the time, I placed more importance on releasing the album on schedule than actually finishing the ideas therein.
So you might be wondering why it is not available on streaming services. After all that work, where is it? After a few years, I pulled the album from streaming services. I felt it did not represent my current skillset. Fortunately, I spent the next several years finishing the ideas at my live performances, carefully revising each and every aspect of these songs.
Just like the Echoes & Light album, I was reminded by audiences of the nostalgia they felt for the music because they often played them as background music in their homes, classrooms, and work, and during their commutes. Several couples told me they played my music at their weddings. As a result, I decided to release it again. Since its original release, I have revised several tracks and excluded others. I am re-recording and remastering several tracks.
If you can get past the several unfinished ideas on this album, you may find something authentic and emotional.
Enjoy!
Also, just as with other releases, I should mention that one thing I enjoy doing is revising the production values and performances of past releases. So there could be a situation in which I replace one of these songs with an improved or remastered version. It's one of the freedoms I enjoy as an independent artist. It feels like complete freedom when I can revise my music like this. Consider this a "living document" that will be revisited from time to time with new versions and updated technology. As long as I'm alive, the music will be, too.
---